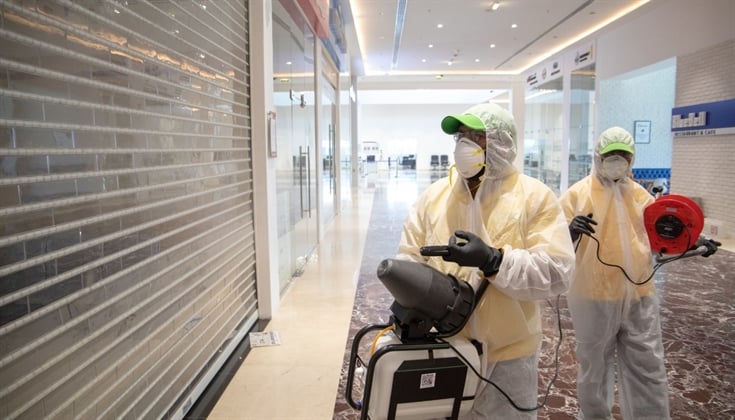 The Sharjah Airport International Free Zone (SAIF Zone) has launched a disinfection drive to sterilise all its facilities in cooperation with the Sharjah Environment Company (Bee'ah).
The sterilization campaign covered the head office, customs and security building, and Saif Zone Mall as well as main and service roads, various internal and external facilities using highly efficient materials.
The drive comes in line with SAIF Zone's precautionary measures being taken to prevent the spread of coronavirus (Covid-19) and to safeguard the health and safety of its employees and customers.
Pre-emptive measures
 "SAIF Zone has always been keen to ensure the safety and health of its employees and customers and to that end, we launched a disinfection drive across all our facilities line with the National Disinfection Programme," said Saud Salem Al Mazrouei, SAIF Zone director.
"We are doing our utmost to support the ongoing efforts being made by the UAE; especially the government of Sharjah to thwart the spread of coronavirus, Al Mazrouei added, lauding Bee'ah's help in the sanitation and disinfection of SAIF Zone's facilities.
Al Mazrouei emphasised that since the outbreak of Covid-19, SAIF Zone has taken many immediate pre-emptive measures and launched awareness programmes on the guidelines and instructions that must be adhered to. We have suspended the work at customer service centres and are now receiving customers' requests remotely though smart apps and call centres, he further said.
The preventive measures also included suspending fingerprint biometric attendance systems, placing sanitizers in corridors, entry points and using medical devices to measure the temperature of visitors at the entrances of all buildings.
Additionally, we have activated the partial remote work system for certain departments and employees and increased dependence on our smart platforms. We harnessed the latest technologies and innovations to help customers and investors process transactions easily and seamlessly, besides introducing a host of online services to speed up procedures and facilitate the access to all services, SAIF Zone Director highlighted.