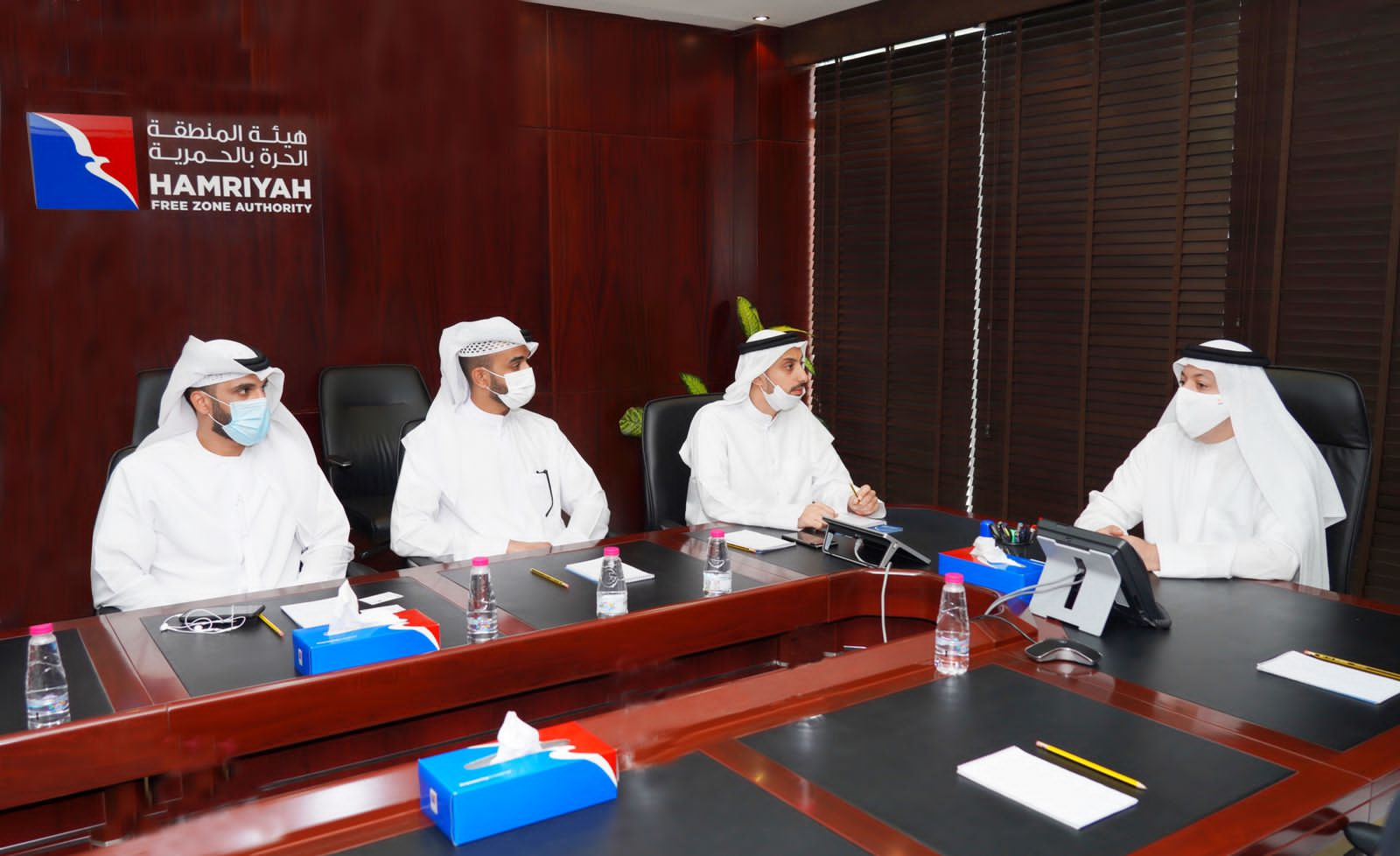 The Hamriyah Free Zone Authority (HFZA), Sharjah Airport International Free Zone Authority (SAIF Zone), and Sharjah Chamber of Commerce and Industry (SCCI) represented by the Communications and Business Sector have taken advanced steps forward to collaborate and strengthen strategic relationships in the hope of unifying efforts that will lead to the increase and enhancement of foreign investment flows and promote the benefits of free zone investments.
These objectives, as well as coordinating efforts to deal with global economic variables and execute the UAE's new methodology, were reviewed during a recently held meeting at the Hamriyah Free Zone Authority.
The meeting was attended by HE Saud Salim Al Mazrouei, Director of the Hamriyah Free Zone Authority and Sharjah Airport International Free Zone Authority, Abdul Aziz Shattaf, Assistant Director-General for the Communications and Business Sector, Ali Saeed Al Jarwan, Deputy Commercial Director, Haya Al Khayal, Leasing Director, Ali Al Zarooni Business Development Manager at HFZA, Amjad Awad Al-Karim, Head of the Business Groups Section at SCCI, Sultan Abdullah Al Ali, National Industries Development Executive, Sultan Abdullah Al Ali Senior Export Services and Market Management Executive at SCCI and a number of representatives of the relevant departments.
The meeting emphasized a number of key subjects, all of which centred around effective perceptions and recommendations aimed at promoting both free zones' portfolios. As a result, some of the important themes explored were integrated business solutions to boost the expansion of international and multinational corporations in regional markets and adapt methods of attracting key players in the international business community.
Furthermore, these main market, which include India, Turkey, Africa, Jordan, and Egypt, share strategic partnerships with the UAE and will benefit from Sharjah's free zones' investment facilities and exceptional opportunities.
Sharjah's pivotal position as a home for major factories and companies in various industrial and commercial sectors, as well as its primary role in the UAE's export expansion plan that strengthened the "Made in UAE" label globally, resulted from such distinguished benefits.
Coordinated efforts
Al Mazrouei underlined the importance of this meeting and how it occurred at a time when both the SAIF and HFZA zones witnessed an increase in the number of foreign investment companies, reaching over 14,500 from 163 countries worldwide. He also mentioned the overall objective of coordinating the efforts of both zones and laying the groundwork for mutual understanding is to enhance foreign investment in the Emirate.
Such initiatives are designed to fulfill the vision of H.H. Dr. Sheikh Sultan bin Muhammad Al Qasimi, Supreme Council Member and Ruler of Sharjah, of promoting Sharjah's sustainable economic growth.
He added that the meeting is part of the SAIF and HFZA zones' marketing strategy, which is aimed at big markets such as the Republic of India. As a result, it owns the largest investment firms in both zones, with over 4,000 companies in various sectors, including ArcelorMittal Projects, which is the world's leading steel and mining company and part of the ArcelorMittal Group.
Furthermore, one of the most significant achievements of HFZA and Sharjah Chamber of Commerce is the attraction of Arab India Spices (LLC), which has implemented the first project of its kind in the Middle East and North Africa, consisting of the construction of 12-grain storage facilities.
Al Mazrouei commended the SCCI for expanding areas of cooperation and providing opportunities for discussion and dialogue, as well as guiding entrepreneurs from various economic sectors to benefit from the different facilities that enhance their success in Sharjah.
An important link
In his remarks, Abdul Aziz Shattaf stated that the growing number of companies and industries in both free zones, and their contributions, have substantially benefited the Emirate's local economy, and the overall UAE's.
"SCCI serves a vital function as a link between free zones and global markets. It improved the quality of investments in the Emirate and increased the sustainability of foreign direct investment (FDI) in a variety of economic sectors," he said.
Shattaf maintained that the Emirate of Sharjah is committed to achieving the goals of the National Strategy for Industry and Advanced Technology.
"The HFZA and SAIF Zone are major pillars in advancing Sharjah's industrial prosperity and growth. Both zones collaborate to provide innovative solutions, vital infrastructure, world-class services, and investment incentives and benefits to local and regional businesses," Shattaf explained.
The HFZA and SAIF zones agreed to develop an integrated strategic plan to organize promotional investment campaigns in both regions until the end of this year among various continents of the world.
The Sharjah Chamber of Commerce and Industry (SCCI) intends to organize field visits to firms in these regions to identify their needs, offer services for investors, and ensure compliance with the highest international work practices.