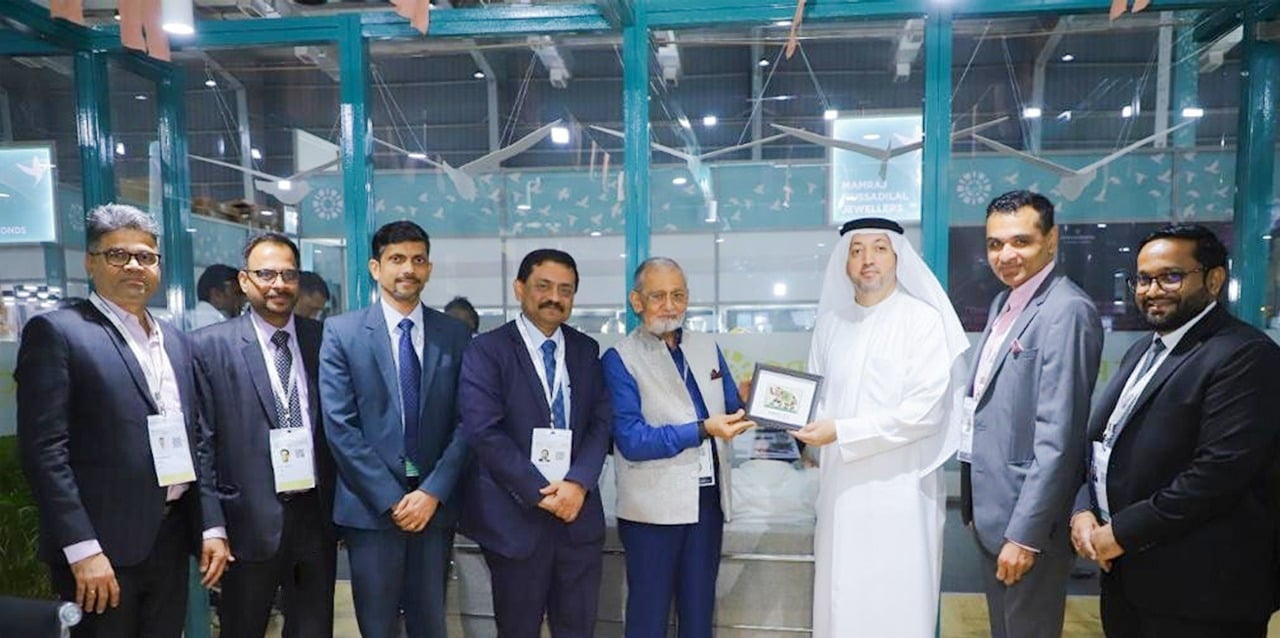 The Sharjah Airport International Free Zone (SAIF Zone) has successfully concluded its participation in the 15th Edition of IIJS Signature Show 2023, the largest B2B gems and jewellery exhibition in India.
The exhibition took place from January 5th to 9th at Bombay Exhibition Centre, with the participation of over 2,500 exhibitor booths and 1,300 exhibiting companies specialized in precious stones and jewellery.
During the exhibition, HE Saud Salim Al Mazrouei, Director of SAIF Zone, met with Mr. Sabyasachi Ray, Executive Director of the Gem Jewellery Export Promotion Council. The meeting, which was held at SAIF Zone's platform, discussed ways to take advantage of the available investment opportunities in the gems and jewellery sector.
Both sides also discussed the competitive advantages offered by the free zone to investors, including state-of-the-art facilities and infrastructure, as well as various investment options that perfectly cater to the needs of businesspeople. The meeting also touched on the promising investment opportunities available in Sharjah's gold and jewellery industry.
Speaking on the occasion, Al Mazrouei said: " The show is the premier event of its kind in India, and SAIF Zone's participation has never been more successful, leaving a positive impression among visitors, particularly those from India, one of the world's largest exporters of precious stones and jewellery."
Al Mazrouei highlighted the importance of holding and promoting direct meetings with visiting investors to introduce them to the vital role played by SAIF Zone, especially when it comes to supporting the gold and jewellery industry in the UAE through the Gold, Diamonds and Commodities Park.
He said that the park, with its advanced infrastructure, global facilities, competitive advantages, and exceptional logistical services, offers an ideal investment environment for all those interested in investing in this industry, adding that the UAE is a major market for exports of Indian gemstones and jewellery, accounting for 14% of India's total exports in the fiscal year 2021-2022. This volume is expected to increase following the comprehensive economic partnership agreement between the UAE and India, Al Mazrouei noted.
The Gold, Diamonds, and Commodities Park offers numerous unique services and facilities for investors, including business licenses in less than an hour, competitive pricing, different financial services, and a variety of spaces to fulfill all demands at affordable rates. Additionally, it provides administrative services including communication, monitoring, visa assistance, and on-site accommodation for workers.