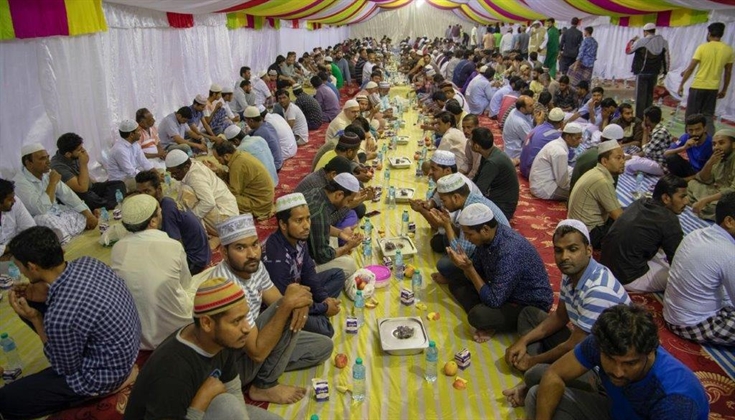 Hamriyah Free Zone Authority and Sharjah Airport International Free Zone (Saif Zone) announced their campaign to provide Ramadan Iftar for approximately 6000 fasting people daily.The campaign will be carried out in 6 Ramadan tents, under the sponsorship of both zones as part of the campaign which is organized in cooperation with Sharjah Charity International and through coordination with the concerned parties in Sharjah Government.The campaign is targeting provision of nearly 1,000,000 meals, around 33,000 daily meals, throughout the Holy Month of Ramadan. This comes as part of the efforts exerted by both zones to strengthen the meanings of charity and giving, as well as pursuing humanitarian and community involvement in conjunction with the Year of Tolerance.
As for Hamriyah Free Zone Authority, it has sponsored the campaign in three Ramadan tents (Abu Bakr Al Siddiq Mosque, Oth'man Ibn Affan Mosque and Omar Bin Al Khattab Mosque).While Saif Zone has backed the campaign in other three tents (Akrama ibn Abi Jahl Mosque, Ziad Bin Amr Al Juhani Mosque, and Sheikh Khalid Bin Abdullah Al Thani Mosque). The total capacity of each tent is 1000 fasting people.H.E. Saud Salim Al Mazrouei, Director of Hamriyah Free Zone Authority and Sharjah Airport Free Zone, said: "The Holy Month of Ramadan is precious chance to reinforce our commitment toward Emirati community and strengthen our initiatives in this regard. We are always keen on opening new paths for contribution to improving the quality of people's lives."
"We managed to find those tracks through our partnership with Sharjah Charity International that resulted in launching this initiative, which is following the same approach of the late Sheikh Zayed bin Sultan Al Nahyan," he added."Sheikh Zayed represents an icon of giving and generosity. Thanks to his unforgettable achievements, the UAE now is ranking an advanced position in the field of humanitarian work among the world's nations," Al Mazrouei noted.He pointed out that this Ramadan campaign reflects the commitment of both zones to enhancing the great values of the Holy Month of Ramadan, stressing that the ultimate goal of this campaign is to alleviate the suffering of a broad sector of the needy fasting people.Al Mazrouei further elaborated: "Both Hamriyah Free Zone Authority and Sharjah Airport International Free Zone believe in social responsibility and the significance of joint work with all people to enhance the culture of giving and charity through supporting Ramadan Iftar campaign."He added that all the people who are living on this good land have inherited the values of giving, love, and charity.